The holidays can be tricky to navigate if you're pregnant, especially early days not wanting to spill the beans! As always, we've got you covered if that's you, or if you're just tired of the holiday hangover and want a healthier choice for those holiday parties. Sip on one of these creations while ringing in the New Year, whether you're out on the town or curled up on the couch. All of these recipes are for a single serving, so scale up as needed. We can't wait to see you in 2018, mama!
Want more Whole30 compliant mocktail recipes? Click here to see our collection!
Cinnamon Broiled Grapefruit with Black Pepper
INGREDIENTS:
1 cup of grapefruit-flavored seltzer
3-5 ice cubes
1-2 slices of broiled grapefruit*
Sprinkle of ground cinnamon
Dash of freshly cracked black pepper
Juice from ½ of a fresh grapefruit
*To broil grapefruit, simply place slices of fresh grapefruit sprinkled with cinnamon and black pepper on a baking tray under your broiler for 10 minutes.
INSTRUCTIONS:
PLACE ice cubes and grapefruit-flavored seltzer in the jar, followed by the fresh grapefruit juice, cinnamon and black pepper.
WITH the lid on the jar, shake until well combined and pour through a sieve in a serving glass.
GARNISH with broiled grapefruit slices.
Cucumber Dill Seltzer with Lime
INGREDIENTS:
1 cup of lime-flavored seltzer
1 4-inch slice of fresh cucumber
3-5 ice cubes
1-2 sprigs of fresh dill
1 fresh lime wedge
INSTRUCTIONS:
ADD ice cubes and lime-flavored seltzer to a glass.
GARNISH with a fresh cucumber slice, fresh sprig of dill and a fresh lime wedge.
Whole30 Mary for Mama
INGREDIENTS:
½ cup of lime-flavored seltzer
½ cup of canned crushed tomatoes with chili peppers OR Whole30 approved tomato juice
Dash of hot sauce (optional)
Pinch of sea salt and black pepper
Juice from ¼ of a fresh lime
3-5 ice cubes
1-2 stalks of fresh celery with leaves
1-2 sprigs of fresh parsley
INSTRUCTIONS:
BLEND lime-flavored seltzer, crushed tomatoes, hot sauce, sea salt, black pepper and fresh lime juice and pour in a glass.
ADD ice cubes and garnish with a fresh celery stalk and a fresh sprig of parsley.
Deep Dreaming Tahini Latte
INGREDIENTS:
1 bag of chai-flavored herbal tea
8 ounces of hot water
Pinch of sea salt
½ tsp. of ground cinnamon
Pinch of ground cloves
Pinch of ground nutmeg
¼ tsp. of ground vanilla bean powder
1 Tbs. of tahini
1-2 Tbs. of collagen peptide powder
INSTRUCTIONS:
STEEP tea bag in 8 ounces of hot water for 10 minutes.
WHILE tea is steeping, add the remaining ingredients to a blender.
AFTER 10 minutes, discard the tea bag and add the hot tea to the blender.
BLEND on high for about 20 seconds, or until very creamy.
SERVE in a mug.
---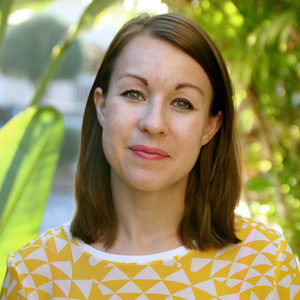 Sarah Steffens has a B.A. in Business Administration, Public Relations from The Master's College in Southern California. After years of experimenting with nutrition and recipes in her own kitchen, she now works as a Personal Chef in Los Angeles, cooking meals that support her client's intention to physically and mentally thrive. She has catered several independent film sets, making it her goal to optimize the energy and well-being of each creative crew. She is the in-house recipe creative for the Whole30, and the creator of the Savor and Fancy blog. When Sarah is not cooking Whole30 and Autoimmune Protocol meals, she is likely exploring mid-century sites in L.A., taking photographs, listening to an audio book or hiking at Griffith Park.