Planning your Halloween party menu? These playful recipes are all Whole30 compliant. These recipes from Michelle Smith of The Whole Smiths and in-house Whole30 recipe developer Sarah Steffens are  spooky AND nutritious, the perfect dishes for a healthy, happy Halloween. And who knows, maybe you'll even be able to get your little picky eater to try something new if it's in the shape of a spooky creature! Have other fun, compliant ideas? We'd love to hear them! Share them over on our Instagram.
Wondering how to navigate all the sugary candy? Read how mamas in our community do it.
Avocado and Cilantro Spider Eggs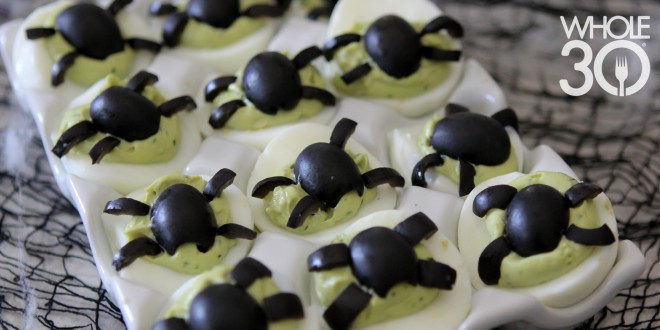 recipe by Michelle Smith
Ingredients
8 hard-boiled eggs
3 Tbsp. compliant mayonnaise
1 Tsp. compliant mustard
1/2 avocado
splash of apple cider vinegar
1 Tbsp. chopped cilantro
1/2 jalapeno ribs removed and chopped (use a whole jalapeño for more heat)
1 can of black olives
1 can of sliced olives
Whole30-compliant hot sauce (optional)
Instructions
SLICE hard boiled eggs in half and remove yolks.
ADD yolks, mayonnaise, mustard, avocado, apple cider vinegar and a pinch of salt to a food processor and process until smooth. Once smooth add in cilantro and chopped jalapeño and pulse until combined. Salt to taste.
FILL fill the cavities of the eggs with yolk mixture (a pastry bag makes this step easier).
TOP with "spiders" by slicing whole olives in half for the bodies. Cut sliced olives in half to use as the spider legs.
OPTIONAL: Top with compliant hot sauce to taste.
Veggie Skeleton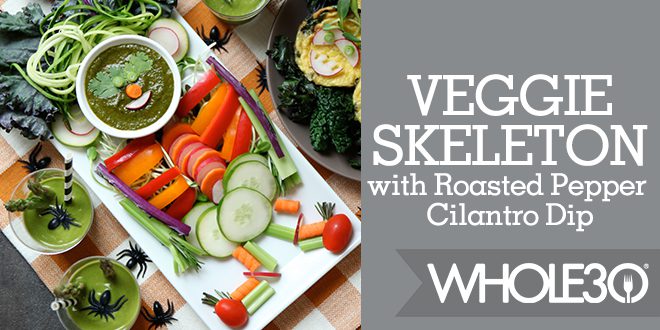 recipe by Sarah Steffens
Ingredients
For the Skeleton Body & Face
2 purple curly kale leaves, veins removed and saved
Handful of spiralized zucchini
1 small cucumber, thinly sliced
2 radishes, thinly sliced
1 carrot, thinly sliced like coins
4 baby carrots
1/2 red bell pepper, seeds removed and julienned
1/2 orange bell pepper, seeds removed and julienned
Handful of sunflower sprouts
2 cherry tomatoes
1 celery stalk, sliced in 4 pieces
1 sprig of fresh rosemary, cut in 4 pieces
2 cilantro leaves
2 thin slices of scallion
Roasted Pepper Cilantro Sauce
1/2 red bell pepper, seeds removed and thinly sliced
1/2 orange bell pepper, seeds removed and thinly sliced
1 cup of fresh cilantro, chopped
1 garlic clove
1/4 cup avocado oil
1/2 tsp. of sea salt
Instructions
PREHEAT your oven's broiler.
PLACE bell pepper slices on a baking tray lined with parchment paper and roast under the broiler for 10 minutes, or until charred.
TRANSFER bell pepper slices to a high speed blender with cilantro, garlic, avocado oil and sea salt and blend on high until pureed. Store sauce in a small ramekin.
ARRANGE your veggie skeleton on a serving tray by placing your ramekin with sauce near the top of the tray to use as a face.
START to build your skeleton's body and design its face.
Skeleton body ideas:
Curly kale leaves and spiralized zucchini as hair
Cucumber and radish slices as ears
Bell pepper slices as ribs (create a nesting spot for ribs with sunflower sprouts)
Carrot and radish slices as a spine
Celery and kale veins as arms
Cucumber slices as a pelvic region
Celery and baby carrots as legs
Radishes as joint connectors
Cherry tomatoes as feet
Rosemary sprigs as toes and fingers
Skeleton face ideas:
Eyes: Cilantro leaves and minced scallion
Nose: Carrot
Mouth: Radish
BE creative with your skeleton and use any veggies you have on hand.  This is a great snack to set out for loved ones and any parts that are not eaten right away can be chopped and added to a salad (using leftover sauce as a vinaigrette).
Fajita-Stuffed Jack 'O Lanterns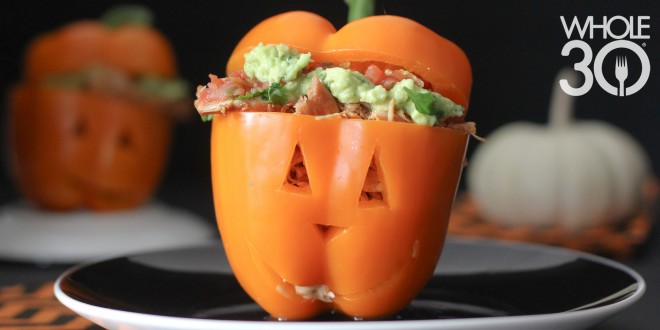 recipe by Michelle Smith
Ingredients
8 chicken thighs
1/2 onion chopped
4 cloves of garlic
14.5 oz can of tomato sauce
1 Tbsp. smoked paprika
1 Tbsp. chili powder
2 avocados
2 Tbsp. chopped cilantro
1 lime
salsa
salt
6 bell peppers
Instructions
LIBERALLY season all sides of chicken with salt. Using a slow cooker or pressure cooker (follow manufacturers instructions) cook chicken thighs, onion, 3 cloves of garlic, tomato sauce, smoked paprika and chili powder together until meat is tender and falls off of the bone.
REMOVE skin and bones from thighs and discard. Shred remaining chicken meat and set aside.
CUT top of peppers off and clean seeds and ribs out of main cavity. Using a small paring knife, carve jack o' lantern faces into the sides of the bell peppers.
MASH avocados in a small bowl together with cilantro, remaining clove of garlic (minced) and juice from one lime, salt to taste.
LAYER chicken meat, guacamole and salsa into the pepper until you reach the top. Place top of pepper back on and enjoy.
Note: Once the fajita stuffing is eaten, dip the remaining pepper into extra guacamole and salsa.
---
About the recipe creatives
About Michelle Smith: I'm a mother to two smiley girls, a happy wife to one fantastic dude and we live in the San Francisco Bay Area.
I'm passionate about the food we eat. Like really passionate about it. But hopefully not in an annoying way. I want to show people that eating wholesome doesn't have to be boring and pretentious and that it's attainable for everyone. I love learning as much as I can about our food supply and what we can do to make a difference. My goal is to be a voice in making our food system a better place to eat. It makes me sad to think about the state of things now but I know through awareness and education we can create the shift that needs to happen for us, our children and generations to come. I share my perspective on whole, healthy eating at the Whole Smiths and via my Instagram @thewholesmiths.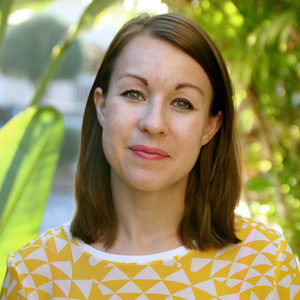 Sarah Steffens is the in-house Whole30 Recipe Developer. She has a B.A. in Business Administration, Public Relations from The Master's College in Southern California.  After years of experimenting with nutrition and recipes in her own kitchen, she now works as a Personal Chef in Los Angeles, cooking meals that support her clients' intention to physically and mentally thrive.
She has catered several independent film sets, making it her goal to optimize the energy and well-being of each creative crew.  When Sarah is not cooking Whole30 and Autoimmune Protocol meals, she is likely exploring mid-century sites in L.A., taking photographs, listening to an audio book or "hiking" at Griffith Park.
Save
Save
Save
Save